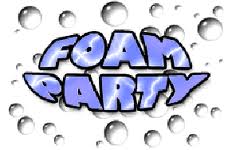 Kids, get ready to have some fun!
The Foam Party Machine is the ultimate interactive experience.
First step to booking your event is to pick a date & time for your party.
All of our Foam packages include a Foam machine, pump and party pit.
Foam solution must be purchased seperately @ $35 (1\2 gallon on Ebay). One 1/2 gallon makes 100 gallons of foam.
The following prices are subject to travel charges outside our area.